As customized furniture becomesmore and more popular, the demand for whole-house customized furniturecontinues to rise. However, because of the special processing characteristics ofcustomized furniture, such as different sizes, many special shaped pieces, and various sheet styles, the production process iscomplicated with high error rate, and the dimensional accuracy is difficult toguarantee, which make it difficult to carry out quantitative production.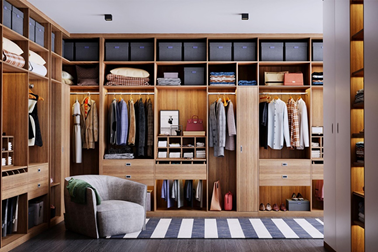 How can high-standard whole-house customized production meet the needs of customization while keeping up with production capacity? Please see our recommendation as below:
1、Nesting machine withautomatic pre-labeling/Automatic loading and unloading system
To produce whole-house customized panel furniture ,we neednesting machine to cut special-shaped panels, at the same time, we can processon-demand according to the cabinet size from the measuring house.
Customized furniture with different sizes and various sheet styles can also be producedquickly and quantitatively with high quality.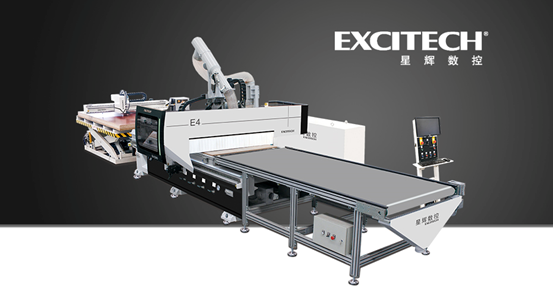 2、Automatic straight edge bandingmachine with dual gluing units
The quality of edge banding process in the production of panelfurniture determines the quality of the final furniture products directly.According to the customized requirements, Excitech straight edge bandingmachines with dual gluing units can change the panel of different colors andthe corresponding colloidal particles viaone push-button operation.Saving the trouble of cleaning the glue pots.
PUR Hotmelt available upon request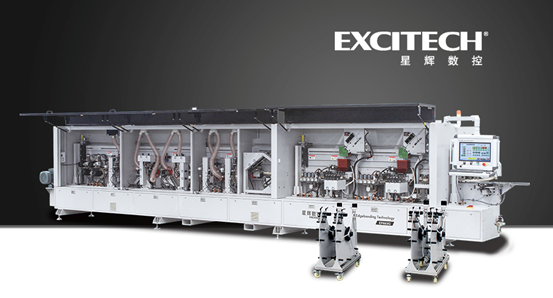 3、Six sided drillingmachining center
Excitechsix sided drilling machine is the best choice for the drilling process of panelfurniture production.
Six-sided drilling can be completed at one time,dual drill banks can be selected toprocess symmetrical holes,efficiency will be greatly improved.